Macabre Latin American fairy tales come to life in LOTERIA – 54 short stories for each of the Loteria cards!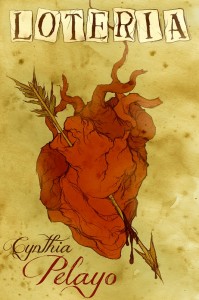 The Gravedigger is resting and so I took this opportunity to write to you all about a little project I was working on that I would like for you all to take a look at, of course, if you have the time.
For the past year or so I have been conducting some research regarding Latin American folktales, fairytales, myths and legends. My fascination with these stories was ignited when I begun to hear friends and family of Latin American origin pass these tales orally.  During this time, I thought about Jacob and Wilhelm Grimm, and how they collected stories for many years that were passed by word of mouth. The Grimm's fairy tales are iconic. We all know the story of Little Red Riding Hood, Rapunzel and Cinderella. Therefore, I began to search archives and books in search of written accounts of the Chupacabra, La LLorona, El Lobizon, and Santa Muerte. While I found snippets of mentions here or there, I was not able to find a full-body of work on Latin American folks stories that slanted toward the paranormal or horrific, and so, I decided to write them myself.  Using the Mexican board game of Loteria as the frame for my work, I wrote and wrote until I compiled 54 short stories to match up with each corresponding Loteria card.
The Chupacabra is the mythical little beast that sucks the blood of goats, and more. La Llorona is the tortured Mexican maiden who killed herself, after she murdered her children, because her lover denied her. El Lobizon is Argentina's wolf man – a legend, or to some, a reality that existed in the Americas long before the Europeans set foot on their land. There are more short stories in this collection, dealing with ghosts and goblins, serial killers, and guilt and confusion turned to demonic possession. All of these tales originated in the Americas or were influenced by Latin American culture.
The Kindle edition is ready for download now. The print edition will be ready in a few days. This project goes beyond my writing interest, it was my love for many nights and we had many drinks together. I called up friends and told them to tell me the tales their grandparents told them. I sat in the mountain tops of Puerto Rico as my father recited his own tortured encounter with a haunting, and I looked back with admiration to the Brother's Grimm who compiled hundreds and hundreds of tales that represented their Germany. As a horror writer, I like to think that in a way, these stories represent Latin America – its history, its passion, and its love and longing, even though these tales do slant toward the mysterious and macabre they are still tales about a people.
You can read an excerpt from the short story collection here, EL DIABLITO, for the card that represents 'The Little Devil.'
I hope you decide to read LOTERIA, and I thank you always for your love and support.
-Cynthia (cina) Pelayo
Kindle Version – Don't have a Kindle? Read it on your PC!
Print Version – Is out now! Get it today!