The Graveyard Edition
Kindle Version $0.99
Print Version $7.00.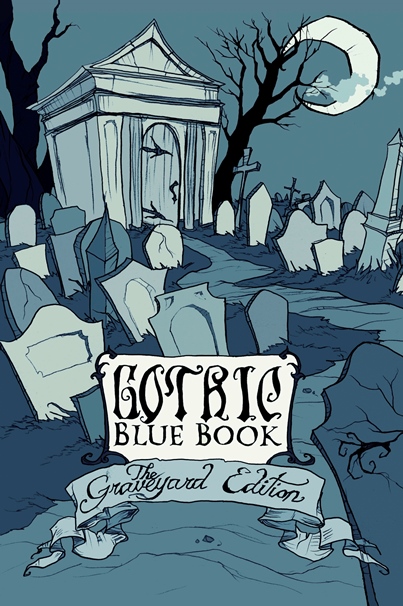 A collection of short stories and poems resurrect the spirit of the Gothic Blue Book. Gothic Blue Books were short fictions popular in the 18th and 19th century. They were descendants of the chap book trade. Burial Day Books presents its third Gothic Blue Book III, The Graveyard Edition. The following short stories and poems honor the Gothic story. Misery, fear, despair, regret and dread are highlighted in the following pages, stirring old ghosts, witches, and awakening death. The following collection of new and established horror authors weave together brilliant tales of terror celebrating the history of the Gothic story with a new twist.
ABOUT THE CONTRIBUTORS
MEG BELVISO lives in New York City where she is a staff editor at Angels on Earth, a bi-monthly magazine about real-life encounters with angels. As a freelancer she's written for many different properties, from Looney Tunes to Dexter's Laboratory, and children's biographies from Steve Jobs to Alfred Hitchcock. This year she's had stories included in Fight Like a Girl, a fantasy collection spotlighting female heroines, and Puzzle Box, an anthology whose tales share a secret origin.
DIE BOOTH lives in Chester, England in a tiny house with four fire-places and enjoys playing violin, drinking tea and exploring dark places. Die's work has been featured in three Cheshire Prize for Literature anthologies and has recently appeared in The Fiction Desk, Litro, For All Eternity from Dark Opus Press and Prime's Bloody Fabulous anthology amongst others. You can also read several of Die's stories in the 2011 anthology Re-Vamp co-edited by L.C. Hu. Forthcoming work is due to appear in The Art of Fairytales edited by Sarah Grant and Die's first novel Spirit Houses will be available in 2013. You can visit Die at http://diebooth.wordpress.com/.
MELISSA J. DAVIES is a writer originally from London now living in Perth, Australia. Melissa has always been intrigued by ghost stories, bloody history and characters that are more than a little untrustworthy. Melissa has published several short stories and poems of various genres but likes gothic fiction the best. She is currently working on her first novel.
LANCE DAVIS is a husband, father of two, and a lifelong fan of the horror genre. He has written numerous short stories and is currently working on his first novel. He is a manager for a company where he lives, but his goal is to one day separate himself from it and immerse himself fully into his writing.
NICOLE DEGENNARO currently works as a copy editor for a science publisher and lives in the Hudson Valley area of New York. Although she studied journalism at Purchase College, her heart has always belonged to fiction writing. Her short story Home Coming will appear in the upcoming anthology Scared Spitless from Silly Tree Anthologies, due out in October. You can learn more about Nicole at her blog: http://nicoledegennaro.wordpress.com/.
MATHIAS JANSSON is a Swedish art critic and poet. He has been published in magazines as The Horror Zine Magazine, Dark Eclipse, Schlock, The Sirens Call and The Poetry Box. He has also contributed to several anthologies from Horrified Press and James Ward Kirk Fiction as Suffer Eternal anthology Volume 1-3, Hell Whore Anthology Volume 1-3, Barnyard Horror and Serial Killers Tres Tria. For more about Jansson visit http://mathiasjansson72.blogspot.se/.
K. TRAP JONES is a writer of horror novels and short stories. With a sadistic inspiration from Dante Alighieri and Edgar Allan Poe, his temptation towards narrative folklore, classic literary works and obscure segments within society lead to his demented writing style of "filling in the gaps" and walking the jagged line between reality and fiction. His novel THE SINNER (Blood Bound Books, 2012) won the Royal Palm Literary Award. He is also a member of the Horror Writer's Association and can be found lurking around Tampa, Florida.
MICHAEL KELLAR is a writer, poet, and occasional online bookseller living in Myrtle Beach, SC. His most recent print publication was a horror story appearing in the anthology Side Show 2: Tales of the Big Top and the Bizarre, and he has recently had stories accepted for two upcoming anthologies, Metastasis and The Ghoul Saloon.
EDWARD J. MCFADDEN III, is an editor and author of more than ten published books of fiction and over 50 short stories. His most recent works include his novels The Black Death of Babylon (Post Mortem Press) and Our Dying Land (Padwolf Publishing, Inc.) His novelette Starwisps was selected for the 2012 Tangent Recommended Reading list. He lives on Long Island, NY, with his wife Dawn, their daughter Samantha, and a mutt named Oli. See www.edwardmcfadden.com for all things Ed.
JESSICA MCHUGH is an author of speculative fiction that spans the genre from horror and alternate history to epic fantasy. A member of the Horror Writers Association and a 2013 Pulp Ark nominee, she has devoted herself to novels, short stories, poetry, and playwriting. Jessica has had thirteen books published in five years, including the bestselling Rabbits in the Garden, The Sky: The World and the gritty coming-of-age thriller, PINS. More info on her speculations and publications can be found at JessicaMcHughBooks.com.
GEORGINA MORALES from early on felt fascinated by the horror genre. The stunning covers tantalized her with promises of endless darkness and obscure tales. While other girls dreamed of becoming princesses, her young mind weaved stories of madness to fit those covers. Years later, after settling in New England, she felt perfectly at home surrounded by dark woods and abandoned buildings. It is from those places and memories that she writes, spinning stories from inside the obscure corridors of the mind where not many venture and very few come out alive. Stalk her on Facebook: www.facebook.com/pages/Perpetual-Night-by-Georgina-Morales/159894374059399
CORTNEY PHILIP writes fucked up fairy tales for grown-up kids. Her work has appeared in The First Line, elimae, Feathertale Review, At-Large Magazine, Gothic Blue Book: Revenge Edition, and all around town. She regrets almost everything.
JENNIFER A. SMITH writes tales of horror and unease while Stella, the tabby cat, keeps watch. Jennifer was born in Minnesota during the second half of the twentieth century. Coffee and diet cola fuel her fanciful thoughts; working at a small town post office provides a fearful insight into the darkness of men's souls. A previous story, Last Summer, was published in the Gothic Blue Book – Revenge edition.
K.R. SMITH is a full-time Information Technology Specialist and a part-time writer, frustrated by his inability to get any meaningful programming code to rhyme and still function properly. While mainly interested in writing short stories of the horror genre, he occasionally delves into poetry, songwriting, and the visual arts. Further escapades are available on his blog at www.theworldofkrsmith.com or on Twitter as @WOKRSmith.
PETER SALOMON graduated Emory University in Atlanta, GA with a BA in Theater and Film Studies in 1989. He has served on the Executive Committee of the Boston and New Orleans chapters of Mensa as the Editor of their monthly newsletters and was also a Judge for the 2006 Savannah Children's Book Festival Young Writer's Contest. He is a member of the Society of Children's Book Writers and Illustrators, the Horror Writers Association, the International Thriller Writers and The Authors Guild and is represented by the Erin Murphy Literary Agency. His debut novel, HENRY FRANKS, was published by Flux in September 2012. His next novel, ALL THOSE BROKEN ANGELS, a ghost story set in Savannah, GA, will be released by Flux in Fall 2014. Peter Adam Salomon lives in St. Petersburg, FL with his wife Anna and their three sons: André Logan, Joshua Kyle and Adin Jeremy.
JAY WILBURN lives in coastal swamps of South Carolina with his family. He has published a number of horror and speculative fiction stories including his novels Loose Ends and Time Eaters. He has a piece in Best Horror of the Year Volume Five with editor Ellen Datlow. He is a proud member of the Horror Writers Association and is a featured author in the Dark and Bookish tour and documentary. Follow his many dark thoughts at JayWilburn.com and @AmongTheZombies on Twitter.