The Cursed Edition
Kindle Version – $0.99
Print Version – $7.00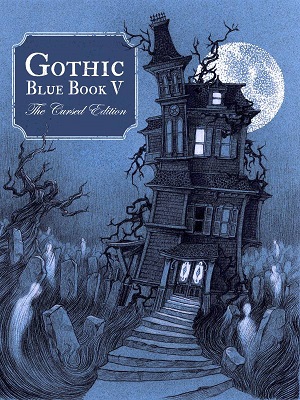 Gothic Blue Books were dark cousins of chapbooks and their popularity peaked between the 1800s and early 1900s. They were abridgements, so shorter versions, of Gothic novels which made them very cheap. These tiny tales of terror were often set in dark castles, cursed abbeys, and haunted houses.
This year's collection is called the Cursed Edition because many of the places featured hold an imprint of something terrible that happened. Many also feature cursed buildings, houses – and people. Some people use the word 'curse' jokingly, but some religions, beliefs and cultures do believe that objects, places, and people can become overwhelmed by misfortune. It's often thought that people can place curses on others, or on objects with the hope that harm and hurt will be inflicted. Whether or not you believe in curses there are those that not only believe in them but believe they can place them – so beware.
In this collection you will find haunted and cursed hotels, an old woman who enjoys to knit quietly – keeping her dark secret guarded. There is a meeting with Robert the Doll – believe created with Voodoo, and of course there is a meeting with our dear friend Death.
We hope that you enjoy this, our fifth Gothic Blue Book – The Cursed Edition featuring fiction by Maria Alexander and poetry Stephanie M. Wytovich.
Cynthia (cina) Pelayo
Gravedigger/Publisher
Burial Day Books
Authors:
Maria Alexander is a produced screenwriter, published games writer, virtual world designer, award-winning copywriter, interactive theatre designer, prolific fiction writer, snarkiologist and poet. Her stories have appeared in publications such as Chizine Magazine, Gothic.net and Paradox, as well as in acclaimed anthologies alongside legends such as David Morrell and Heather Graham.
Her debut novel, Mr. Wicker, won the 2014 Bram Stoker Award for Superior Achievement in a First Novel. Publisher's Weekly called it, "(a) splendid, bittersweet ode to the ghosts of childhood," while Library Journal hailed it in a Starred Review as "a horror novel to anticipate." She's represented by Alex Slater at Trident Media Group.
When she's not wielding a katana at her local shinkendo dojo, she's being outrageously spooky or writing Doctor Who filk. She lives in Los Angeles with two ungrateful cats, a pervasive sense of doom, and a purse called Trog.
Max Booth III is the author of Toxicity, The Mind is a Razorblade, and How to Successfully Kidnap Strangers. He's the Editor-in-Chief of Perpetual Motion Machine Publishing and an ongoing columnist at Litreactor.com. He works as a hotel night auditor in a small town outside San Antonio, TX. Follow him on Twitter @GiveMeYourTeeth and visit him at talesfromthebooth.com.
Ryan Bradley has published work in The Missouri Review, The Rumpus, Pinball, the anthology Drawn to Marvel, and others, as well as winning the 2015 JP Reads flash fiction contest and contributing regularly to Action Figure Fury. He will receive his MFA from Emerson College in May.
J.M. Cole's style of writing has been described as "reminiscent of Lovecraft, Stoker and Shelley" a complimentary description for an author who is fascinated by all things 'old and creepy'. A longtime fan of old school horror, J.M. crafts stories meant to provoke a deep carnal fear within the human soul, a fear spawned by the mind's inability to comprehend or accept those things that could not and should not, be. J.M.'s current projects include various short stories, two screenplays, and an ongoing horror anthology.
J.M. Cole lives in beautiful, historical and haunted, Portsmouth, New Hampshire with her daughter, Isa.
Lance Davis is a married father of 2 from Northwest, AR whose stories and poems have appeared in Frightmares A Fistful of Flash Fiction, Gothic Blue Book III: The Graveyard Edition, Gothic Blue Book IV: Folklore Edition, Blood Reign Lit, The Twelve Nights of Christmas, Peripheral Distortions by Death Throes Publishing Bones II, Captive Hearts Anthology published by Clouded Tower Press, and the Horror Writers Association Poetry Showcase Volume II. He can be found at: http://www.facebook.com/LanceDavisII.
Ashley Dioses' work has been published in Spectral Realms No. 1, 2, and 3 by Hippocampus Press, Weird Fiction Review #5 by Centipede Press, Necronomicum: The Magazine of Weird Erotica Issue 4 by Martian Migraine Press, an upcoming issue of Xnoybis from Dunhams Manor Pres, and a few amateur ezines. Her debut poetry collection will be published by Hippocampus Press in 2016.  She has also appeared on Ellen Datlow's full recommended list for Year's Best Horror Vol. 7 for her poem Carathis, published in Spectral Realms No. 1 by Hippocampus Press.
Phil Hickes is English and lives in Portland, Oregon with his wife who he met while living in New Zealand. They also have a rescue dog called Lucky who's prone to bouts of melancholy when separated from his ball. Hickes loves Autumn, stone circles and crumbling English graveyards. He's  had a number of shorts published and is currently subbing his second book, a middle grade horror yarn. You can follow him on Twitter if so inclined @hickesy.
Mariah Huehner is a New York Times Best-selling writer and Harvey award nominated editor of comics and graphic novels. Titles include: True Blood: All Together Now , Anne Rice's Servant of the Bones , RISE for The Witching Houranthology and Emily & The Strangers. You can find her tweeting too much as Tiredfairy.
Mariah loves cephalopods, monster girls, stories and being a mominator.
C. G. Jones, born in the Great White North, lives in Providence, Rhode Island and works in the romantic and fast-paced world of office administrative support. A member of a very cool and helpful writer's critique group, he reads when he's awake. He's a big fan of dogs and a fan of big dogs and if he met yours they could be second-best friends (don't worry.)
Trap Jones is an author of horror novels and short stories. With inspiration from Dante Alighieri and Edgar Allan Poe, he has a temptation towards narrative folklore, classic literary works and obscure segments within society. His short stories have appeared in various anthologies and magazines. His novel, The Sinner won the 2010 Royal Palm Literary Award. Other novels include: The Drunken Exorcist, The Charm Hunter, The Harvester, One Bad Fur Day and The King's Ox.
He is also a member of the Horror Writers Association and can be found lurking around Tampa,  FL. For more information visit: http://ktrapjones.wordpress.com.
Christian A. Larsen grew up in Park Ridge, Illinois and graduated from Maine South High School in 1993. He has worked as an English teacher, radio personality, newspaper reporter, and a printer's devil. His debut novel, Losing Touch, features a foreword by New York Times bestselling-author Piers Anthony. In Losing Touch, Morgan Dunsmore, who is in the midst of a mid-life crisis, finds that he can walk through walls. Larsen lives with his wife and two sons in the fictional town of Northport, Illinois. Follow him on Twitter @exlibrislarsen or visitwww.exlibrislarsen.com.
Kerry G. S. Lipp lives in Louisville, Kentucky. He hates the sun and loves making fun of dead people. His parents started reading his stories and they've consequently booted him from their will. Kerry's work appears in several anthologies including DOA2 from Blood Bound Books. His work has been featured multiple times on The Wicked Library podcast. He is currently editing his first novel, writing his second, and shopping a bizarro novella. Kerry rarely (but still) blogs at Horror Tree and will launch his own website sometime before he dies.
Say hi on Twitter @kerrylipp or come find him on Facebook. And he wants you to remember to always cover the camera on your laptop. You never know who's watching you.
Stephen Millard is a writer of prose, poetry, and music. He hails from the heartland of Kansas and now lives in the San Bernardino mountains of Southern California where he awaits the return of his fiancé, a marine; his work is a reflection of her. His first collection of poetry will be available near the first of the year.
For more, go to  Facebook.com/stephenmillardofficial.
K.A. Opperman's work has appeared in Spectral Realms (Hippocampus Press), Necronomicum, various anthologies from Horrified Press, and will appear in Weird Fiction Review, Nameless Digest, and Xnoybis. His debut verse collection, The Crimson Tome (Hippocampus Press) is currently available.
Jennifer A. Smith writes tales of horror and unease. She was born in Minnesota during the second half of the twentieth century. A childhood love of reading, along with a penchant for old horror films, has awakened a love for the dark and unholy; thirty years of working at a small town post office have nourished that obsession.
Sean Wofford is a writer and musician from New Jersey. The stories of H.P. Lovecraft and Edgar Allen Poe sparked his interest in short fiction and horror. He is also influenced by Asian horror directors such as, Hideo Nakata, Takashi Shimizu, and Koji Shiraishi. He is currently studying at Fairleigh Dickinson University majoring in English literature and minoring in psychology. He works as a teacher's assistant and has been published in Yellow Chair Review, Atrocity Exhibition, and short-listed for the 2014 Benjamin Franklin House literary prize.
Stephanie M. Wytovich is a Professor of English by day and a horror writer by night. She is the Poetry Editor for Raw Dog Screaming Press, a book reviewer for Nameless Magazine, and a well-known coffee addict. She is a member of the Science Fiction Poetry Association, an active member of the Horror Writers Association, and a graduate of Seton Hill University's MFA program for Writing Popular Fiction. Her Bram Stoker Award-nominated poetry collections, Hysteria: A Collection of Madness, Mourning Jewelry, and An Exorcism of Angels can be found at www.rawdogscreaming.com, and her debut novel, The Eighth, will be out in 2016 from Dark Regions Press. Follow Wytovich at stephaniewytovich.blogspot.com and on twitter @JustAfterSunset.
Stories:
Maria Alexander – Some Divine
Max Booth III – Darling
Ryan Bradley – Catholic Guilt
J.M. Cole – Beneath
Lance Davis – Slurg
Ashley Dioses – Collected Poems
Phil Hickes – Chatterbox
Mariah Huehner – To Rot
B.C.G. Jones – Carlyle
K. Trap Jones – Dead and Breakfast
Christian A. Larsen – Knitting Away Eternity
Kerry G.S. Lipp – Robert Did It
Stephen Millard – Just Like Everything Else
K.A. Opperman – Collected Poems
Jennifer A. Smith – A Witch's Tale
Sean Wofford – The Procession
Stephanie M. Wytovich – Collected Poems
Editors:
Cynthia (cina) Pelayo
Gerardo Pelayo