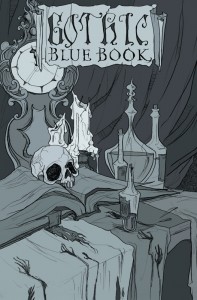 Get your copy of Burial Day Books, Gothic Blue Book: The Haunted Edition for only $0.99!
Available on Amazon's Kindle and in print on Amazon.com.
A collection of short stories and poems resurrect the spirit of the Gothic Blue Book. Gothic Blue Books were short fictions popular in the 18th and 19th century. They were descendants of the chap book trade. Burial Day Books presents its first Gothic Blue Book, The Haunted Edition. The following twelve short stories and two poems honor the Gothic story. Misery, fear, despair, regret and dread are highlighted in the following pages, stirring old ghosts, witches, and awakening death. The following collection of new and established horror authors weave together brilliant tales of terror celebrating the history of the Gothic story with a new twist.
ABOUT THE CONTRIBUTORS
HELENA MARIE CARNES-JEFFRIES has been writing for over twenty years. In 2003, she graduated from East-West University with a Bachelor Degree in English and Communications. She took part in the Robert Hayden Poetry Fellowship at Louhelen Bahai School in 2006. In September of 2011, her essay Peace Is Possible was broadcasted on the Bob Edwards Show and featured on the This I Believe website for the tenth anniversary of 9/11. She has also had work published in the Journal of Ordinary Thought and Area Chicago.
JOHN EVERSON is the Bram Stoker Award-winning author of the erotic supernatural horror novels Covenant, Sacrifice, The 13th, Siren and The Pumpkin Man. He's also penned five short story collections, including Needles & Sins, which included the Stoker nominated Letting Go. Over the past 15 years, John's short fiction has appeared in more than 75 magazines and anthologies, and he has contributed to Green Hornet and  Kolchak: The Night Stalker anthologies, as well as to the non-fiction On Writing Horror reference book for writers. His stories and novels have also been translated and published in Poland, Turkey and France. John is also the publisher of Dark Arts Books (www.darkartsbooks.com), a Chicago area press spotlighting the cutting edge work of some of the best authors working in short horror/dark fantasy fiction today. For more on his fiction, art and music visit www.johneverson.com.
ABE GRACE is currently a student in New York City and finds inspiration in alleyways, the color of the sky, and in things others have thrown away as well as writers such as Junot Diaz, George Orwell, and Flannery O'Connor. Grace enjoys writing of strange beginnings, bittersweet endings, and tackling stories from different angles and unfortunate points of view. Abe Grace hopes to finish a novel soon, preferably from the rooftop of a houseboat or a tunnel in a London sewer.
M. N. HANSON is an agent of mayhem and a defender of chaos and will complete a Master of Fine Arts in Writing at The School of the Art Institute of Chicago in 2011. More about M.N. Hanson can be found here http://mnhanson.blogspot.com/
K. TRAP JONES is an award winning author of literary horror novels and short stories. His passion for folklore, classic literary fiction and obscure segments within society lead to his creative writing style of "filling in the gaps" and walking the line between reality and fiction. With a strong inspiration from Edgar Allan Poe, Bram Stoker and Dante Alighieri, his stories involve topics and situations where very little is known, which provides an open canvas to explore. He is an active member of the Florida Writer's Association and hopes to rejuvenate the classical era of horror one story at a time. www.ktrapjones.com
P MAXWELL was born and raised in the eldritch hills of West Virginia. She has a Bachelor of Arts in English from Bethany College in West Virginia, and a Master of Fine Arts in Writing from The School of the Art Institute of Chicago. She currently resides in Chicago with her fat dog and a huge pile of books while she waits for the Elder Gods to rise up from the seas.
BEN MCELROY is a full-time admissions representative for a Massachusetts state university and a part-time writer of horror fiction. The cottage in which he and his family live may be visited by ghosts as evidenced by the shadow figures seen on occasion, as well as by the objects that tend to relocate without human intervention. Ben's four published stories, including Emergence of the Hidden Things, can be found in various anthologies, and his tale A Peculiar Shade of Purple was posted on Fangoria.com in May 2011 as one of the semi-finalists in the magazine's first Weird Words Contest.
GREG MOLLIN is a fiction writer living in Orange County, California. He has been involved in everything from hardcore punk music to graphic design and even a stint as writer/performer on a popular cable television sketch comedy show. His short story, The Monster on Myers Avenue was recently published in Dark Moon Digest #3. He is currently at work on his first novel. www.gregmollin.com
MONICA NICKOLAI having lived in Korea, the Czech Republic, and England, is a writer and artist interested in mapping historical and cultural topographies through her work. She graduated with a Master of Fine Arts degree in Writing from The School of the Art Institute of Chicago and currently works there as an instructor. Her work has appeared in theaters, galleries, and publications in Seoul, St. Louis, and Chicago. More of her work is available at www.monicanickolai.com.
CYNTHIA (cina) PELAYO grew up in a haunted house with very superstitious parents. So, a lifelong fascination with Gothic literature, romantic horror and the macabre seemed fitting. Pelayo holds a genuine curiosity for superstition, folklore and myth. She holds a Bachelor of Arts in Journalism from Columbia College, a Master of Science in Integrated Marketing Communication from Roosevelt University, and a Master of Fine Arts in Writing from The School of the Art Institute of Chicago. She is a member of the Horror Writer's Association and is also the Publisher/Gravedigger at Burial Day Books. She wears black – most of the time and she stays out of the sun as much as (un)humanly possible. burialday.com.
GERARDO PELAYO is the Undertaker at Burial Day Books and is a lifelong Chicagoan who got his Bachelor of Science at DeVry Technical Institute. He also holds a Master of Applied Science from Roosevelt University. He writes code by day and well writes code by night. He tweets daily random facts, and his obsessions are comic books, fantasy baseball, and BBQ. Follow him on twitter @Thee_Undertaker.
MARC RUVOLO works and resides in Chicago, IL where he writes short fiction, performs music, and skulks in gloomy lanes when not attending to his day job as a disgruntled shopkeep. www.bucketoblood.com
JORDAN SCRIVNER was born and raised in Las Vegas, Nevada. He majored in English at the University of Utah and he received a Master of Fine Arts in Writing at the The School of the Art Institute of Chicago. He currently works in a toy store. jordanscrivner.wordpress.com
COURTNEY SLOAN is an adjunct professor of Study Skills at Hood College in Frederick, and of English and Communications at Frederick Community College, where she also serves as a writing coach. Her genre interests include science fiction, horror and urban fantasy, citing Kim Harrison and Patricia Briggs as recent influences. She is preparing her first sci-fi/horror novel, Black Sun, for consideration by literary agents while she begins work on its sequel, Black Moon. courtneysloanwrites.wordpress.com

LISA STOCK is a writer and filmmaker working in the mythic arts. She pulls her stories from a varied background in film, theater, anthropology and museum work. Her films have played in Cannes, London, New York, and New Orleans, and she most recently directed Neil Gaiman's Snow, Glass, Apples for the stage in Atlanta. She is currently in development on the feature film Titania, and recently had a short story published in Primal Picnics.You can learn more about her work at www.InByTheEye.com.
___________________________________________________________