Burial Day Books Call for Submission: Gothic Blue Book VOL 6: A Krampus Carol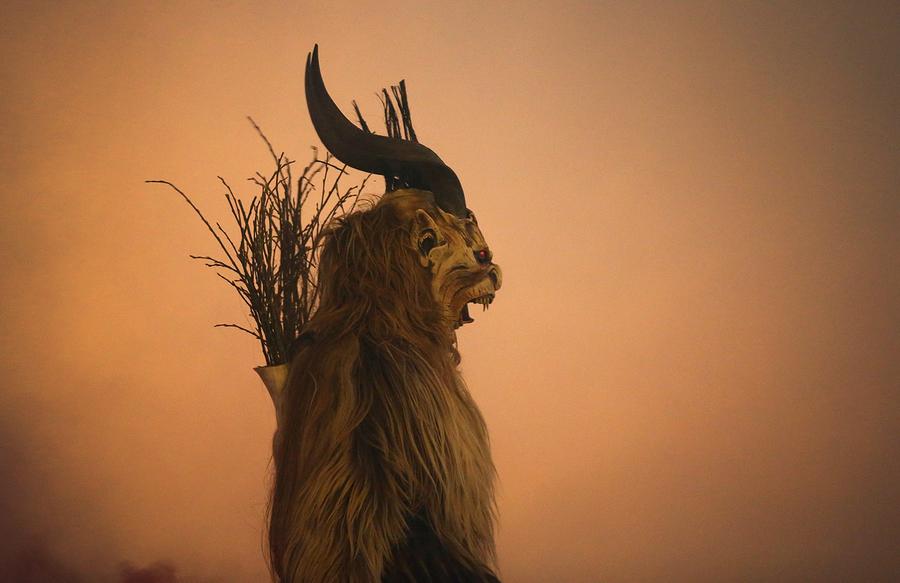 Source: The Atlantic.com
Gothic Blue Books were short fictions popular in the 18th and 19th century. They were descendants of the chap book trade and are now a thing of the past. Burial Day Books is now open for submissions for Gothic Blue Book Vol. 6 to be available October 31st 2020.
What was a Gothic Blue Book?
Gothic Blue Books were abridgements of full-length Gothic novels. The subjects of these books fell into one of two categories; the first being set in a monastery or convent and the second being set in a castle.
In terms of the physicality of the book, they were three and a half to four inches in width and six to seven inches in height, with a page count of thirty-six to seventy-two pages.
These little pieces of terror were popular at the time because they were affordable, a sixpence or a shilling each. Their cost affordability led them to be nicknamed Shilling Shockers or Sixpenny Shockers.
What are we looking for?
Original Gothic Blue Books typically took place in either a monastery, convent or castle. In years past we have asked for short stories that take place in one of these locations, or a modern day location such as a morgue, haunted house or cemetery. This year, we have added a new theme – Krampus, Christmas, and ghosts / lore from the globe revolving around a major celebration. Christmas ghost tales have a history stretching back that includes Charles Dickens' A CHRISTMAS CAROL and more.
Please submit a short story or poem no longer than 3,500 words that follows one of the following:
A single mention or setting in one of the original Gothic Blue Book settings:
a) Monastery
b) Convent
c) Castle
OR –
A single mention or setting that includes one of 2020's Gothic Blue Book theme:
a) Krampus
b) Christmas
c) And more – see below '2020 Addition'
2020 Addition:
a) A story or poem about Krampus, Christmas, Winter, Winter Solstice, Christmas ghosts or Christmas demons, New Year's Eve, New Year's Day, Epiphany, Three Kings Day, or any folklore, legend or myth surrounding winter, etc. For inspiration think of Charles Dickens' A CHRISTMAS CAROL and give us cold, darkness, maybe even a demonic Ebenezer Scrooge, a tortured ghost of Christmas Past, Present, or Future, etc. We are also excited to read haunted tales about any other major celebrations from various backgrounds and belief systems; Djinn, Ghosts of Diwali, Chinese Winter Festival and so on. We hope that A Krampus Carol can take the old tradition of Christmas ghost tales, mixed with the spirit of Blue Books, and give readers something terrifying and new.
In addition to the above, the story or poem must instill fear using a supernatural element – ghosts, ghouls, monsters, myth, folklore or legend.
Extreme violence, sexual violence, derogatory language, hateful and harmful language of groups, people, or belief systems will not be considered.
For inspiration look to Ann Radcliffe, Edgar Allan Poe, Mary Shelley, Helen Oyeyemi, Jorge Luis Borges, Shirley Jackson, Emily Brontë, Daphne Du Maurier, Victor LaValle, Angela Carter, Neil Gaiman, Tananarive Due, Charles Dickens and more.
The collection will be published October 31st 2020 in eBook and traditional book format.
DEADLINE: JULY 5th 2020
LEGAL DETAILS
If accepted you are giving Burial Day Books:
A. The exclusive first right to publish your story.
B. The right to republish the story in or in connection with Burial Day, including electronic or hard copy form, including in promotional material or compilations – provided that authorial credit is given in every instance of reproduction.
After your story appears on Burial Day and in the Gothic Blue Book you are free to republish your piece elsewhere as long as you communicate to potential buyers that they are buying your story as a non-exclusive piece.
Payment details:
$50.00 (USD)
One (1) Contributor copy of the anthology
You can submit here at submittable.
The full link is also as follows: https://burialdaybooks.submittable.com/submit/6171/burial-day-gothic-blue-book-6-a-krampus-carol