THE REVENGE EDITION
Get your copy of Burial Day Books, Gothic Blue Book: The Revenge Edition for Amazon's Kindle for only $0.99 and in print for only $7.00.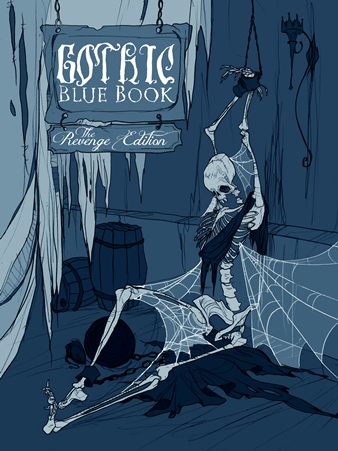 A collection of short stories and poems resurrect the spirit of the Gothic Blue Book. Gothic Blue Books were short fictions popular in the 18th and 19th century. They were descendants of the chap book trade. Burial Day Books presents its second Gothic Blue Book, The Revenge Edition. The following short stories and poems honor the Gothic story. Misery, fear, despair, regret and dread are highlighted in the following pages, stirring old ghosts, witches, and awakening death. The following collection of new and established horror authors weave together brilliant tales of terror celebrating the history of the Gothic story with a new twist.
ABOUT THE CONTRIBUTORS
CHAD P. BROWN was born in Huntington, WV. Once he outgrew his childhood fears of haunted houses, clowns, and toy monkeys with cymbals (although those still creep him out a little bit), he discovered a dark love for writing and an affinity for macabre and eldritch matters. He holds a Master's in Latin from Marshall University. In October 2011, he released his first horror novel, The Jack-in-the-box. His current projects include a zombie novella and various short stories, as well as a dark fiction novella, The Pumpkin House. You can find him online at www.chadpbrown.com, and follow him on Twitter @chadbrown72 and Facebook at www.facebook.com/ChadPBrown.
TARA CLEVES is a 28-year resident of the Sunshine State. Though she loves the sun, the Florida moon equally enchants her. Librarian by day, Tara spends her evenings editing children's books and writing fiction, her weekends on the water with her husband, and sunny afternoons and moonlit evenings in her butterfly garden. Her published works include a dreary romantic poem some years ago, a novel The Guardian of Baine Manor, and now, The B&B Owner, her first published short story.
M.N. HANSON is a recent graduate of The School of the Art Institute of Chicago's master program in writing. Previously published in Burningword, The Reading, and Gothic Blue Book I, our author is also a filmmaker, sound wizard, and painter of things that cannot be. Please visit http://mnhanson.com/ to complain.
PHIL HICKES was deported from England for stealing a load of bread and a gentleman's silk 'andkerchief, Phil Hickes currently resides in a New Zealand penal colony where he works as an advertising copywriter. In his spare-time he enjoys prowling the foggy streets in a hansom cab, with top hat, frock coat and surgical bag, laughing maniacally for no apparent reason. You can find other most excellent scribblings by said author on Amazon by searching 'Phil Hickes' and read his bland but well intentioned tweets @hickesy
EMMA HINGE is an English Honours student currently studying at Canterbury University in Christchurch, New Zealand. New to the art of writing, Emma enjoys challenging the assumptions we make about the narratives of everyday life. Emma likes writing horror because of its ability to surprise – perhaps it isn't surprising however that most of her great ideas occur during witching hour…
K. TRAP JONES is an award winning author of literary horror novels and short stories. With a strong inspiration from Dante Alighieri and Edgar Allan Poe, his passion for folklore, classic literary fiction and obscure segments within society lead to his creative writing style of "filling in the gaps" and walking the line between reality and fiction. He is a member of the Horror Writers Association. More information can be found at http://www.ktrapjones.com
DANIEL KRAUS is a writer, editor, and filmmaker. His debut novel, The Monster Variations (Random House, 2009), was selected to New York Public Library's "100 Best Stuff for Teens." Fangoria called his Bram Stoker-finalist, Odyssey Award-winning second novel, Rotters (Random House, 2011), "a new horror classic." Upcoming novels include Trollhunters (Hyperion, 2013), co-written with Oscar-winning filmmaker Guillermo del Toro. Visit Daniel at danielkraus.com.
DAVID MASSENGILL lives in Seattle and visits Bellevue only occasionally. His short stories and works of flash fiction have appeared in numerous literary magazines and the anthologies Long Live the New Flesh: Year Two and State of Horror: California. You can read more of his fiction at www.davidmassengillfiction.com
CARL PALMER has been nominated twice for the Micro Award in flash fiction and thrice for the Pushcart Prize in poetry. Palmer is from Old Mill Road in Ridgeway, VA but now lives in University Place, WA.
Palmer's motto is 'Long Weekends Forever'
CYNTHIA (CINA) PELAYO is a graduate of The School of the Art Institute of Chicago's Master of Fine Art in Writing program. Her short story collection, LOTERIA, is a collection of 54 short stories based on Latin American folklore, superstition, legend and myth. Her first horror novel, Santa Muerte, about the Mexican cult of death will be released in October via Post Mortem Press. She is a member of the Horror Writer's Association and is also the Publisher/Gravedigger of Burial Day Books. She wears black—most of the time—and she stays out of the sun as much as (un)humanly possible. cinapelayo.com
GERARDO PELAYO is the Undertaker at Burial Day Books and is a lifelong Chicagoan who got his Bachelor of Science at DeVry Technical Institute. He also holds a Master of Applied Science from Roosevelt University. He writes code by day and well writes code by night. He tweets daily random facts, and his obsessions are comic books, fantasy baseball, and BBQ. Follow him on twitter @Thee_Undertaker.
CORTNEY PHILIP writes fucked up fairy tales for adults who aren't. She writes and teaches in Chicago, and her work has appeared in elimae, Feathertale, The First Line, and At-Large Magazine.
WEDNESDAY SILVERWOOD is a horror writer from North London, England. Her recent work can be found in publications from Pill Hill Press and Static Movement. She has more stories forthcoming from Red Skies Press, Siren's Call Publications and Morpheus Tales. For more information, please see her website at www.wednesdaysilverwood.co.uk.
JENNIFER A. SMITH writes tales of horror and unease. She was born in Minnesota during the second half of the twentieth century. A childhood love of reading, along with a penchant for old horror films has awakened a love for the dark and unholy; thirty years of working at a small town post office have nourished that obsession.
MELISSA STANZIALE lives in Rhode Island with her husband and their two pets. She has a Bachelor of Arts in English from the University of Rhode Island in Providence. Her short fiction has appeared on websites such as Microhorror and Flashes in the Dark. It has also appeared in online magazines such as Black Petals and Death Head Grin. The Gothic Blue Book Volume Two is her first print publication.