The Folklore Edition
Kindle Version $2.99
Print Version – $9.99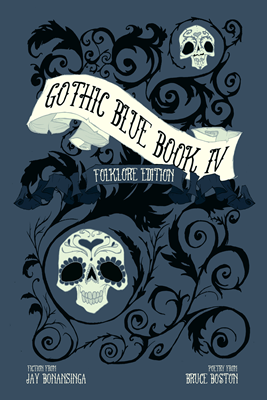 A collection of short stories and poems resurrect the spirit of the Gothic Blue Book. Gothic Blue Books were short fictions popular in the 18th and 19th century. They were descendants of the chap book trade. Burial Day Books presents its fourth Gothic Blue Book, The Folklore Edition.
Featuring New York Times bestselling author and Bram Stoker Award finalist Jay Bonansinga's new fiction – Bivouac.
Featuring collected poetry by Bram Stoker Award and Puschcart Prize winning author Bruce Boston.
Authors:
Aisha Abram writes fiction from her home near St. Louis. She is a former reporter who traded fact for fiction. An MFA graduate of Lindenwood University, Aisha's  first professional post was as a staff writer for a bi-weekly Missouri newspaper. Her short fiction recently appeared in the February 2014 edition of Hello Horror, an online literary journal. She has a passion for all things horror and continues to write about things that scare her.
Jay Bonansinga is the New York Times bestselling author of twenty books, including the Bram Stoker Award  finalist The Black Mariah (1994), the International Thriller Writers Award finalist Shattered (2007), and the wildly popular Walking Dead novels. Jay's work has been translated into eleven languages, and he has been called "one of the most imaginative writers of thrillers" by the Chicago Tribune.  He lives in the Chicago area with his wife, the photographer Jill Norton, and his two teenage boys, and is currently hard at work on the next Walking Dead book in the Woodbury quartet. You can find Jay on-line at jaybonansinga.com.
Bruce Boston is the author of fifty books and chapbooks, including the novels The Guardener's Tale and Stained Glass Rain. His writing has appeared in hundreds of publications, most visibly in Asimov's SF, Amazing Stories, Realms of Fantasy, Weird Tales, Pedestal, Strange Horizons, Daily Science Fiction, Year's Best Fantasy and Horror and the Nebula Awards Showcase. Boston has received the Bram Stoker Award, a Pushcart Prize, the Asimov's Readers' Award, the Rhysling Award, and the Grand Master Award of the SFPA. For more information, visit bruceboston.com.
Tara Cleves is a 30-year resident of the Sunshine State. Though she loves the sun, the Florida moon equally enchants her.  Librarian by day, Tara spends her evenings figuring out what to watch now that True Blood is over, and writing fiction. On weekends, she visits sea turtles in rehab, and she spends sunny afternoons and moonlit evenings in her butterfly garden or at the beach for sea turtle releases. Her published works include a dreary romantic poem some years ago, a novel The Guardian of Baine Manor,  a short story The B&B Owner published by Burial Day Books, and now, The Butterfly Gardener for this year's Gothic Blue Book: The Folklore Edition.
Frank Darbe has been a resident of California since 1970. He likes writing fiction and poetry, hiking, travel, camping, reading, politics, model railroading, war-gaming (with painted miniatures), coffee, long conversations by candlelight, and an occasional glass of fine Tequila. Darbe has a Masters of Fine Arts in Creative Writing from National University. Over the years, he has published six short stories in small markets and 13 poems in 99 New Poems: A Contemporary Anthology (2010).
Lance Davis is a married father of two from Northwest Arkansas and a long-time fan of the horror genre. His stories have been published by or appeared in: Frightmares A Fistful of Flash Fiction, Gothic Blue Book III: The Graveyard Edition, Blood Reign Lit, The Twelve Nights of Christmas, Peripheral Distortions by Death Throes Publishing, featured on the Death Throes Publishing webzine September issue, and Bones II. He can be found at: facebook.com/LanceDavisII.
Nicole DeGennaro currently works as a copy editor for a science publisher and lives in the Hudson Valley area of New York. Although she studied journalism at Purchase College, her heart has always belonged to fiction writing. Her short and flash fiction stories have been published in the anthologies Scared Spitless, Gothic Blue Book III: The Graveyard Edition, The Grotesquerie and 100 Worlds. You can learn more about Nicole at her blog: nicoledegennaro.wordpress.com.
Indiana writer James Dorr's The Tears Of Isis was a 2013 Bram Stoker Award® nominee for Superior Achievement in a Fiction Collection.  Other books include Strange Mistresses: Tales Of Wonder And Romance, Darker Loves: Tales Of Mystery And Regret, and his all-poetry Vamps (A Retrospective).  For more, readers are invited to visit Dorr's blog at jamesdorrwriter.wordpress.com.
Christina Glenn is a biology student by day and a closet writer by night. She grew up in Wilmington, North Carolina, fed heavily on the city's ghost stories, which gave her a lifelong love of all things supernatural. Horror is her favorite genre, especially the works of H.P. Lovecraft and Arthur Machen.
Agustin Guerrero was raised on werewolf stories and urban legends in Southern Florida. He has recently self-published his first novel, The Amalgam. You can find more of his work at agustinguerrero3.wordpress.com, where there are links to the other social medias.
Emma Hinge is a literary enthusiast, who occasionally puts pen to paper. Her short stories can be found in anthologies by Burial Day Books and The Alchemy Press. She lives in Christchurch, New Zealand with her boring engineer husband and a bed-hog cat. You can find her on twitter @missoilcan.
Kelly Hoolihan is a marine biologist by day and a writer by nights and weekends. She has been published previously in HWA Poetry Showcase volume 1 and she can be found on Twitter at @khooliha.
K. Trap Jones is an author of horror novels and short stories. With inspiration from Dante Alighieri and Edgar Allan Poe, he has a temptation towards narrative folklore, classic literary works and obscure segments within society. His novel The Sinner (Blood Bound Books) won the 2010 Royal Palm Literary Award. Other novels include The Drunken Exorcist (Necro Publications), The Harvester (Blood Bound Books), One Bad Fur Day (Sirens Call Publications) and his short story collection The Crossroads (Hazardous Press). He is also a member of the Horror Writers Association and can be found lurking around Tampa, Florida. For more on K. Trap Jones visit ktrapjones.wordpress.com.
Kerry G.S. Lipp teaches English at a community college by evening and writes horrible things by night. He hates the sun. His parents started reading his stories and now he's out of the will. Kerry's work appears in several anthologies including DOA2 from Blood Bound Books and Attack of the B-Movie Monsters from Grinning Skull Press. His story Smoke pioneered The Wicked Library podcast's explicit content warning. Currently, he's shopping a bizarro novella and editing his first novel. KGSL blogs at ‪HorrorTree.com and will launch his own website newworldhorror.com sometime before he dies.
Sean Logan's stories have appeared in more than thirty publications, including Black Static, Penumbra, Supernatural Tales, The New Gothic and Dark Visions. He lives in northern California in a little house with a big, scary Rottweiler that will run and hide at the first sign of trouble.
David Massengill is the author of Fragments of a Journal Salvaged from a Charred House in Germany, 1816 and other stories (Hammer & Anvil Books). Dozens of his short works of literary and horror fiction have appeared in literary journals, including Burial Day Books, Eclectica Magazine, Word Riot, Pulp Metal Magazine, Yellow Mama, and 3 A.M. Magazine, among others.  His fiction has also appeared in the anthologies Gothic Blue Book:  The Revenge Edition, State of Horror:  California, Long Live the New Flesh:  Year Two, and Clones, Fairies, & Monsters in the Closet.  His website is davidmassengillfiction.com.
Edward J. McFadden III has three published novels The Black Death of Babylon, Our Dying Land, and Hoaxers. His short fiction has appeared in numerous magazines and anthologies. For more information about Ed, go to edwardmcfadden.com.
Meredith Morgenstern writes historical fantasy, dark paranormal, and Twilight Zone-esque speculative fiction. Her YA short story, The Esther is included in Spencer Hill Press's 2013 anthology, Holiday Magic. She lives in Brooklyn, New York, with her husband and two children. They can see Green-Wood Cemetery from their living room window.
g. Elmer Munson is a New England writer of all things strange and unusual as well as the horrors of everyday life. He has published numerous short stories as well as the novel Stripped, the story collection Tales From The Underground, and the upcoming novella Camp Hollybrook. He has more works in progress than can be counted, so you can follow his (mis)adventures on the web at gElmerMunson.com.
Lawrence Salani lives on the coast near Sydney Australia. Writing horror stems from reading pulp writers of the past, main influences being H.P. Lovecraft, William Blake and Austin Spare. As well as writing he enjoys fine arts /painting and drawing.  He finds that poetry assists with the creative process; however, his work seems to lean towards the darker tones. His published works include A Fragment of Yesterday, Eclecticism  E-Zine issue 5, Summer Heat, Night Terrors anthology, Blood Bound Books, The Angel of Death, Danse Macabre, Edge publishing, A Light in The Darkness, Darkness Ad Infinitum and Villipede.
Cathy Smith is a Mohawk of the Turtle Clan, and has lived all her life on a Status Indian Reservation on the Canadian Side of the border. She is proud of her people's culture and traditions, but is also interested in the cultures and traditions of other peoples, and she feels that speculative stories are myths of the modern age.
Stories:
Aisha Abram – Friend Of The Family
Jay Bonansinga- Bivouac
Bruce Boston – Collected Poems
Chad P. Brown – Bones Chimes
Tara Cleves – The Butterfly Gardener
M. Frank Darbe – Parcel Post
Lance Davis – Spooklight
Nicole DeGennaro – Making Friends
James Dorr – School Nights
Christina Glenn – Down By The River
Agustin Guerrero – Hunting The Devil
Emma Hinge – Seaside Bound
Kelly Hoolihan – Bus Stop
K. Trap Jones – Where It All Started
Kerry G. S. Lipp – Fairborn, Ohio Where Trains And Ghosts Still Run
Sean Logan – The Crawling Man
David Massengill – Looking Glass
Edward J. McFadden III – Lost Days
Meredith Morgenstern – Atheists In The Cemetery
g. Elmer Munson – Family Business
Lawrence Salani – The Cursed
Cathy Smith – Gifts From A Grim Godfather
Editors:
Cynthia (cina) Pelayo
Gerardo Pelayo