A Krampus Carol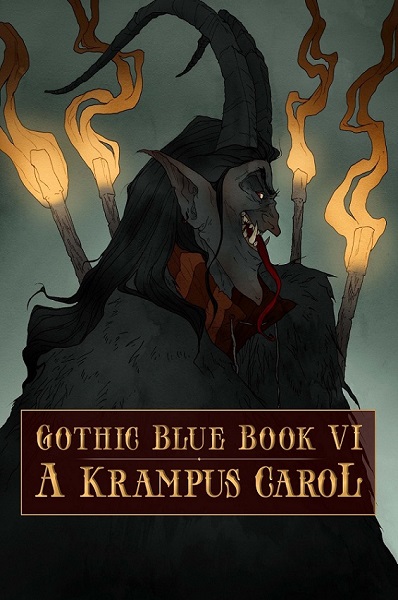 A collection of short horror stories and poems resurrect the spirit of the Gothic Blue Book. Gothic Blue Books were short Gothic fictions popular in the 18th and 19th century.
Burial Day Books presents its sixth Gothic Blue Book, A Krampus Carol. A Krampus Carol is a celebration of folklore and myth around Christmas, Yule, the cold winter months and Santa Claus' opposite, Krampus.
DEANNA BARAN lives in Texas and is a librarian and former museum curator. She writes in between cups of tea, playing Go, and trading postcards with people around the world.
NICO BELL is the author of the horror novel Food Fright. She's a book reviewer, editor, and her short stories can be found in several places including The Second Corona Book of Short Stories and Drabbledark Anthology.
DIE BOOTH haunts Chester, UK, and enjoys goth music, exploring dark places and telling lies. You can read his stories in places like Lamplight Magazine, Firewords, The Fiction Desk and Fundead Press's Exquisite Aberrations anthology. He likes producing hand-made flash fiction zines and his short story collections My Glass is Runn and 365 Lies (all profits go to the MNDA) are available to buy online, as well as his first novel Spirit Houses. He's currently working on a collection of spooky short stories featuring transgender protagonists, and Making Friends, a new short story collection, is due out soon. http://diebooth.wordpress.com/ @diebooth   
T.M. BROWN serves as an officer in the U.S. Army. He currently lives in Colorado Springs with his beautiful wife, Anna, and his two dogs, Fry and Zapp. Although Trevor has long held a passion for speculative fiction, he has only recently taken up writing for publication. His preferred genres include horror, strange fiction, and dark fantasy. T.M. Brown's debut novella The Gloam is currently available on Amazon in both paperback and Kindle formats. He currently has over a dozen pieces of dark fiction under contract with independent publishers. 
JEFF C. CARTER'S stories have been featured in dozens of anthologies, translated for international markets and adapted for podcasts. His love of Halloween, adventure and science continue to inspire his horror, action and science fiction writing. He lives in Los Angeles with a cat, a dog, and a human.
He can be found at his Amazon Author Page and Good Reads under Jeff C. Carter, Facebook and Twitter @carterwroteit, Instagram @Jeffc.carter and his site JeffCCarter.com.
MALINA DOUGLAS weaves stories that blur the line between the uncanny and the real. She explores ruins, caves and jagged rocks that could be the homes of monsters, ghosts or trolls. She has published in Flash Fiction Magazine, Metamorphose V2, and Indigo: A Western Australian Journal of Writing and was nominated as the Gold Writer of the ArtAscent Bliss issue. Other publications include Foilate Oak, Consequence Magazine, and Sobotka Literary Magazine. She has also published in Rhythm & Bone, the Antipodean, and Sea Glass Hearts. For The Monsters We Forgot Anthology she created a spectre to haunt St Michael's Mount, Cornwall. She tweets @iridescentwords.
KEVIN M. FOLLIARD is a Chicagoland writer whose fiction has been collected by The Horror Tree, Flame Tree Publishing, Hinnom Magazine, and more. His recent publications include the Short Sharp Shocks! Halloween tale "Candy Corn"; the Christmas horror story "Season's Greetings," featured at The Dread Machine, and his 2020 horror anthology The Misery King's Closet. Kevin currently resides in La Grange, Illinois, where he enjoys his day job as an academic writing advisor and active membership in the La Grange and Brookfield Writers Groups. When not writing or working, he's usually reading Stephen King, playing Super Mario Maker, or traveling the U.S.A. You can learn more about his writing at www.KevinFolliard.com
SAMSON STORMCROW HAYES is the author of the critically acclaimed graphic novel Afterlife (YALSA quick picks selection), screenwriter of "The Deal," a ghost writer on a Steven Seagal film (it shall be unnamed, but apologies if you've ever seen it), and author of numerous stories and poetry. Hayes has written for Nigel Lythgoe ("American Idol"), The Weekly World News, and his epitaph. Originally from Cleveland, Ohio, he now resides in Los Angeles where the smog is slowly killing him. He can be found in old parking lots, abandoned malls, or at www.Stormcrowhayes.com.
LAUREL HIGHTOWER grew up in Kentucky, attending college in California and Tennessee before returning home to horse country, where she lives with her husband, son and two rescue animals. She works as a paralegal in a mid-size firm, wrangling litigators by day and writing at night. A bourbon and beer girl, she's a fan of horror movies and true life ghost stories, and is one third of the Ink Heist podcast team. She is the author of one previous novel, Whispers in the Dark, and has several pieces of short fiction slated for publication in various upcoming anthologies. Her novella Crossroads was released in August 2020 through Off Limits Press.

MATT JEAN currently works in the advertising industry, and also enjoys writing in his spare time. His work has been featured in anthologies such as Iron Horse and The Arrival, as well as Redefine, a literary magazine for the University of Windsor. He loves horror stories and was thrilled to have the opportunity to contribute to this anthology.
Besides writing, he enjoys watching movies and would love to write a feature length screenplay one day. Matt lives in Southern Ontario and has been on Santa's nice list all year.
SHANE DOUGLAS KEENE is a poet, writer, and musician living in Portland, Oregon. He is one-third of the Ink Heist podcast and co-founder of inkheist.com. He wrote the companion poetry for Josh Malerman's serial novel project, Carpenter's Farm in 2020 and has multiple forthcoming works in other venues.
AMANDA CECELIA LANG is an aspiring recluse from Denver, Colorado. She lives with her life partner, two ancient cats, and an ongoing existential crisis. As a card-carrying scary movie nerd, her favorite things are haunted houses, 80s nostalgia, and a fierce final girl. Her horror stories have appeared on The Other Stories Podcast, Dime Show Review and in the anthologies When the Sirens Have Faded and The Year's Best Hardcore Horror, Volume Six. You can stalk her at https://amandacecelialang.com, just don't be surprised if she leaps out at you from the shadows.
GARY E LEE is a Florida man with too many cats and a love for light horror.
MADELEINE MCDONALD lives in Yorkshire, England, where the cliffs crumble into the sea. She finds inspiration walking on the beach before the world wakes up.
SARAH MICHELSON is a horror writer and sketch comedian, in no particular order. She graduated from Wellesley College in 2018 with a degree in English and Art History. Sarah enjoys going to art galleries, black coffee, old graveyards, and, to her own disappointment, seasonal IPAs. You can find her on Twitter at @sarah_michelson. 
VICTORIA NATIONS is a horror writer and biologist, and lover of spooky, spooky stories. She writes about backwater creatures and monsters with emotional baggage. Some of them are even human. 
Victoria's stories have been published by Burial Day Books and in Author and Artist Spooky Showcases hosted by JoleneHaley.com, and she is a co-author of the novel, The Dark and Stormy Night.  She is also a contributor to the horror writer website, MidnightSocietyTales.com.
Victoria lives in Florida, USA with her wife and son, who indulge her love of monsters. You can find her at her personal website LeavesandCobwebs.com or at Twitter @Leaves_Cobwebs or Instagram @Leaves_Cobwebs
CINDY O'QUINN is an Appalachian writer from the beautiful mountains of West Virginia, where she was steeped in folklore from an early age. She now lives and writes about scary happenings on the old Tessier Homestead located in the woods of northern Maine. 
Her work has been published in the Shirley Jackson Award winning anthology, The Twisted Book of Shadows. Cindy's short story, "Lydia," from the anthology was a 2019 Bram Stoker Award Nominee. She's also been published in HWA Poetry Showcase Vol V, Nothing's Sacred Vol 4 & 5, Speculative City, Space & Time, and others. You can follow Cindy on Facebook @CindyOQuinnWriter or Twitter @COQuinnWrites, or Instagram @cindy.oquinn. 
KATHLEEN PALM haunts her 100 year old farmhouse in rural Indiana with her husband, two teenagers, four cats, dog, Harry Potter wand collection, and Stephen King books. She started writing about sixteen years ago, beginning with fantasy and now neck deep in the dark and creepy. Several of her short stories have been published and featured on blogs, most recently "Freckles" appeared in the horror anthology Bloody Red Nose: Fifteen Fears of a Clown and "Voices" was included in issue 73 of Leading Edge magazine. She contributes twice a month to the horror blog The Midnight Society and can be found on Twitter, if anyone is looking for a new friend.
HAILEY PIPER is the author of horror novellas The Worm and His Kings, The Possession of Natalie Glasgow, and Benny Rose, the Cannibal King. She is a member of the HWA whose short fiction appears in Daily Science Fiction, The Arcanist, Year's Best Hardcore Horror, Volume 5, and elsewhere. She lives with her wife in Maryland, where together they practice raising the dead. Find Hailey at www.haileypiper.com or on Twitter via @HaileyPiperSays.
JENNIFER QUAIL is a writer of fantasy, horror, and mystery, a wine-tasting consultant, trivia geek, and owner of two of the world's cutest dogs. In December 2019 she achieved a lifelong dream of appearing on Jeopardy! without embarrassing herself in the process. She enjoys travel, art, and excessive amounts of coffee.
MONIQUE QUINTANA is a Xicana from Fresno, CA, and the author of the novella Cenote City (Clash Books, 2019). Her short works have been nominated for Best of the Net, Best Microfiction, and the Pushcart Prize. She has also been awarded artist residencies to Yaddo, The Mineral School, and Sundress Academy of the Arts. She has also received fellowships to the Community of Writers, the Open Mouth Poetry Retreat, and she was the inaugural winner of Amplify's Megaphone Fellowship for a Writer of Color. You can find her @quintanagothic and moniquequintana.com.
KARA RACE-MOORE first learned about Victorian Gothic when her sixth grade teacher did a dramatic reading of "The Tell-Tale Heart," complete with stamping and yelling, and has been hooked on Gothic Horror ever since. She studied history at Simmons College as an excuse to read about the soap opera lives of British royals. Kara Race-Moore has published stories in fantasy, horror, and science fiction, holding them up as a fun house mirror to the real world.  Ms. Race-Moore can be found at: https://kararacemoore.wordpress.com/ 
Toronto-native MARY RAJOTTE has a penchant for penning nightmarish tales of folk horror and paranormal suspense, exploring mythology and superstition. Her work has been published in Shroud Magazine, and in anthologies from the Library of Horror Press, Shroud Publishing, the Great Lakes Horror Company, Magnificent Cowlick Media and Fabled Collective.
 Mary is a member of the Horror Writers Association and was the recipient of the 2018 HWA Scholarship. Sometimes camera-elusive but always coffee-fueled, you can find Mary at her website http://www.maryrajotte.com
C L RAVEN are identical twins and mistresses of the macabre. They're horror writers because "bringers of nightmares" isn't a recognised job title. They've been published in the UK, USA and Australia, most notably in The Mammoth Book of Jack the Ripper, which makes their fascination with him respectable. They often work on indie horror films and ended up with lead roles in School Hall Slaughter. In their spare time they hunt ghosts, host a horror radio show, look after their animal army, edit the UK's only aerial fitness magazine, own a mobile poledance studio and accidentally became burlesque dancers. You can find them at Twitter: @clraven or Instagram: clraven666 or Facebook: https://www.facebook.com/CL-Raven-Fanclub-117592995008142/
SAGE RAVENWOOD is a deaf Cherokee woman residing in upstate NY with her two rescue dogs, Bjarki and Yazhi, and her one-eyed cat Max. She is an outspoken advocate against animal cruelty and domestic violence. Her work can be found in Glass Poetry – Poets Resist, The Temz Review, Contrary, trampset, Pittsburgh Poetry Journal, and Sundress Press anthology – The Familiar Wild: On Dogs and Poetry. Forthcoming – Grain Magazine, Massachusetts Review, and Smoke & Mold. 
LAWRENCE SALANI lives on the coast near Sydney Australia, and has been writing Dark Fiction for several years. His writing stems from reading pulp and classic horror writers of the past. Main influences are H.P. Lovecraft, William Blake, and Austin Spare. As well as writing he enjoys Fine Arts—painting and drawing, and can be seen frequenting the Rocks District of Sydney looking for ghosts and visiting the many galleries. Over the years his stories have appeared in anthologies such as: Danse Macabre, by Edge Publishing Deadsteam, by Grimmer and Grimmer Books, Gothic Blue Book IV, by Burial Day Books and recently "Under The Full Moon's Light" and "When The World Stopped" both by Owl Hollow Press. You can find him on Facebook and Goodreads.
K. R. SMITH is a life-long resident of the Washington, D.C. area with an interest in creating short stories, poetry, and visual arts. He also has a curious fascination with graveyard statuary and black cats. Links to books containing his published works, a myriad of flash fiction pieces, artwork, and more are available at https://www.worldofkrsmith.com/.
AUSTRIAN SPENCER had an unfortunate trauma aged eight, when a truck drove over him and his "Grifter" bike. This made him bedridden and a captive of books for too many years. The habit persisted throughout his life (reading books, not staying in bed), to the extent that his daughter's first painting was of him holding a book, rather than her hand. He has the picture framed in the upstairs toilet, to look at whilst feeling vulnerable.
He is the "glass-half-full," an eternal optimist and believes passionately in you. You are doing exactly what you need to be doing at this moment in your life. He often thinks this, while staring at his daughter's first painting.
Austrian's Debut novel, The Sadeiest, is available from November 27th on Amazon by Darkstroke Books this year. You can find Austrian Spencer at https://austrianspencer.com//
M.C. ST. JOHN is the author of the short story collection Other Music. His stories have appeared, as if by luck or magic, in Aphelion, Boned, Coffin Bell, J.J. Outré Review, Tangled Tree Publishing, and Transmundane Press. Aside from the worlds he's dreamed up, he can be found in Chicago, where he teaches students how to break the rules of writing and attempts to beat his partner Jamie and their cat Queso at book bingo. See what he's writing next on www.mcstjohn.com and follow him on Instagram under the handle @MC_StJohn.
ANGELA SYLVAINE is a self-described cheerful goth that still believes in monsters and always checks under the bed. She holds degrees in psychology and philosophy. Her work has appeared in multiple publications and anthologies, including Dark Moon Digest, Places We Fear to Tread, and Not All Monsters. A North Dakota girl transplanted to Colorado, she lives with her sweetheart and four creepy cats on the front range of the Rockies. You can find her online at angelasylvaine.com.
SARA TANTLINGER is the author of the Bram Stoker Award-winning The Devil's Dreamland: Poetry Inspired by H.H. Holmes, and the Stoker-nominated To Be Devoured. Her other works include Love For Slaughter, The Devil's City written with Matt Corley, and the anthology Not All Monsters. Along with being a mentor for the HWA (Horror Writers Association) Mentorship Program, she is also a co-organizer for the HWA Pittsburgh Chapter. She embraces all things macabre and can be found lurking in graveyards or on Twitter @SaraTantlinger and at saratantlinger.com
Authors:
The Aspirant Heiress by Deanna Baran
The Night of Epiphany by Nico Bell
When the Leaves Go by Die Booth
Yule Log by T.M. Brown
Candy Cane by Jeff Carter
The Boy Who Tricked Krampus by Malina Douglas
Sugarplum by Kevin M. Folliard
A Creature Was Stirring by Samson Stormcrow Hayes
Black Lace Binding by Laurel Hightower
Letters to Krampus by Matt Jean
I Am a Fortress by Shane Douglas Keene
All Through the House by Amanda Cecelia Lang
Secret Santa by Gary E Lee
A Desk Fit for a Purpose by Madeleine McDonald
A Very Good Actress by Sarah Michelson
After Krampusnacht by Victoria Nations
When She Visits by Cindy O'Quinn
The Path by Kathleen Palm
The Last Noel by Hailey Piper
Queen of the Wassail by Jennifer Quail
The Wreath by Monique Quintana
All Quiet on the Northern Front by Kara Race-Moore
Cast Away Stones by Mary Rajotte
Hell's Bells by C L Raven
The Holly King's Spawn by Sage Ravenwood
Creature of Darkness by Lawrence Salani
Christmas Eve by K.R. Smith
Krampus by Austrian Spencer
The Dark-Eyed Boy by M.C. St. John
Here We Come A-Caroling by Angela Sylvaine
The Yule Cat by Sara Tantlinger
Editors:
Cynthia Pelayo
Gerardo Pelayo
Cover Art:
Abigail Larson
About Burial Day Books
Founded in 2011, Burial Day Books is a boutique press based out of Chicago and owned by Cynthia and Gerardo Pelayo. Burial Day publishes the Gothic Blue Book, a collection of short stories and poems that resurrect the spirit of the Gothic Blue Book. Gothic Blue Books were short fictions popular in the 18th and 19th century.
Burial Day also publishes short fictions monthly, and partners with writers and artists to produce quality fiction to celebrate new and emerging voices in horror.